Mark Lamendola, a recognized electrical expert, has been a repeat speaker at many industry events and association meetings.

He's presented at NETA, The Electric Show, Electric West, the 7x24 Exchange, the IEEE, and other venues in the electrical industry.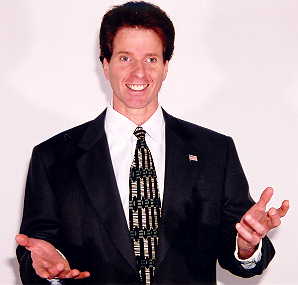 Mark Lamendola has written dozens of articles for EC&M Magazine, Fluke Corporation, the IEEE, NECA, CEE News, Quality Connection (IBEW & NECA), Rexel Power Outlet, and other voices in the electrical industry. In fact, Klein Tools even began enclosing one of Mark's articles with certain products.
You can see Mark's full seminar history and related information at his speaker pages. Go to http://www.mindconnection.com/main/timemanager
If you need an energetic speaker who makes complex concepts understandable, you need to talk to Mark. It's not just an opinion that Mark makes complex concepts understandable--the 2004 Chair of Mensa (the High IQ Society) said this about Mark in the Mensa Bulletin. Mark's marketing communications clients say the same thing.
Topics that Mark brings great understanding to include:
Grounding
Leadership
Management effectiveness
NEC (just about any part of it)
Power quality
Project management
Time management
Work efficiency
To contact Mark, click here.